MOON BOOT & KULM HOTEL ST MORITZ: A FANTASTIC SNOW SCULPTURE TO DEFEND WINTER
2 February 2021
Kulm Hotel St. Moritz, the legendary address from which the destination's success in tourism was born, and Moon Boot, an icon of mountain footwear for 50 years, enter into a creative partnership for the 2020/21 winter season.
It is a gigantic Moon Boot, the brand's most emblematic model, to welcome residents, guests and visitors in the open space between the Kulm Hotel St Moritz and the Kulm Country Club.
The installation, which bears the signature of the Italian sculptor Vania Cusini, is made entirely of the most natural material of winter in St. Moritz: snow.
The giant Moon Boot, built with over 40sqm of snow, will dominate for the entire season. It is a temporary sculpture, sensitive to the changing climate of the coming weeks. The colder it gets, the longer it will last.
Five meters high and with a double logo, the sculpture wants to surprise and entertain, inviting a more serious reflection, precisely with the complicity of the material chosen in building it.
"We are happy with this project with Moon Boot, not only because it is a beloved brand in the mountains, but also for the opportunity it offers us to send an important message, with irony and lightness" comments Heinz E. Hunkeler, general manager of Kulm St Moritz hotels. "Global warming is a reality and snow a phenomenon at risk of extinction, together with the joy it gives us. In 1864 the Kulm Hotel was the first to believe in St Moritz in winter and to make the whole world fall in love with it. We will always be on the front line to defend our favorite months of the year! ".
"We are honored to occupy such a privileged space thanks to the collaboration with Kulm Hotel St. Moritz" says Alberto Zanatta, President of Tecnica Group. "Our XXL boot symbolizes the need for a giant first step in the right direction. None of us want to give up winter, the pleasure of a nice holiday in the snow and all the incredible sports that can be done there ".
Below you can appreciate a timelapse that illustrates the steps necessary to complete the sculpture.
https://vimeo.com/ibexmedia/review/500821903/aea4fc9d97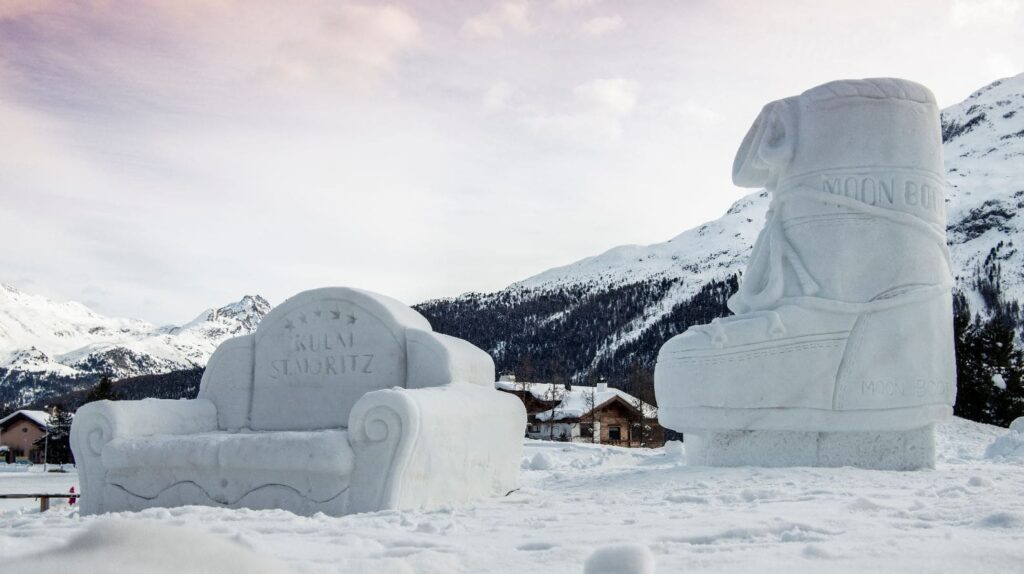 Visit the Web Site